MOUNTAIN OF THE DEAD
THE DYATLOV PASS INCIDENT
by Keith McCloskey
In February 1959 nine young skiers died in strange circumstances in the northern Urals Mountains in Russia. The leader of the Group was Igor Dyatlov who had only just turned 23. He was an affable and highly experienced skier, hiker and orienteer. There were two strong willed girls in the Group: Lyudmila Dubinina and Zinaida Kolmogorova. There were also another seven males: Yury Yudin, Rustem Slobodin, Semyon Zolotarev a tough World War Two veteran and expert in unarmed combat, Alexander Kolevatov, George Krivonischenko, Yury Doroshenko and Nicolai Thibeaux-Brignolle who was born in one of Stalin's GULAGs where his French Communist father had been imprisoned and executed.
The whole Group were all very fit, experienced hikers and skiers and only the previous year, Igor Dyatlov had led a party on the same route, so they were confident that there would be no problems encountered that they could not deal with.
They left Sverdlovsk and travelled north by train, lorry and then finally by foot and skis. They reached an abandoned village of wooden houses previously used by geologists (on 27 January). They spent the night there and it was here on the following day (28 January) that the tenth member of the Group, Yury Yudin decided to turn back as he felt he could not carry on because of illness.
Their target was to reach the 1,234 metre Mount Otorten (translated as Don't go there in the local Mansi language) but they ended up on the slopes of the 1,079 metre Mountain named Kholat Syakhl (translated as Mountain of the Dead in the local Mansi language).
Up to 28 January 1959, everything can be independently verified about the Group's journey. Beyond that date and despite the presence of a Group diary and photographs, nothing can be verified.
When search parties found their tent, they saw that the side of the tent had been slashed and footsteps led away from it in deep snow. The first bodies were found to have died of hypothermia. The remaining bodies were found weeks later and were found to have no external marks, but internal injuries resembling those inflicted by a car crash. One of the two females in the group was found to have her tongue missing.
There appeared to be no rational explanation for the circumstances of their deaths. The official summing up of the case described the deaths as being caused by an unknown compelling force.
Since the official files were made available for viewing, the mystery has only deepened as there appears to be no theory or explanation which satisfactorily describes what happened to the group.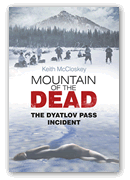 My book, Mountain of the Dead: The Dyatlov Pass Incident is based on original research in Russia and using the Dyatlov group diaries, photos and interviews with surviving people connected with the group and the sole survivor from the group, Yury Yudin who turned around because of illness. Yury Yudin passed away on 27 April 2013
Keith McCloskey
Discovery Channel - Unexplained Files: Dyatlov Pass Incident

In March 2013, I acted as consultant for the filming of a drama-documentary on the Dyatlov Incident.
The filming took place outside Vilnius, Lithuania and the programme is expected to broadcast on the Discovery Channel from August 2013.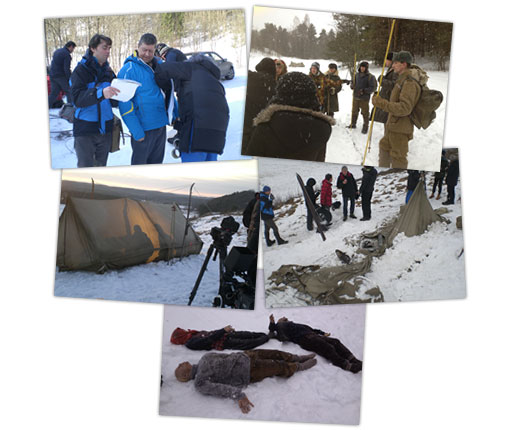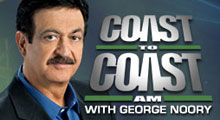 On November 17th 2013, I appeared on the Coast to Coast AM Radio Station in America. Coast to Coast AM airs on more than 560 stations in the US as well as Canada, Mexico and Guam and is heard by nearly three million weekly listeners. It is the most listened to overnight radio program in North America. In just 4 days my 2 websites received over 10,000 new visitors.